High-Efficiency AC Synchronous Motor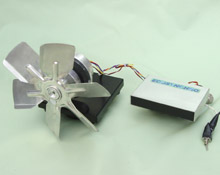 We, at K. R&D, have developed a high-efficiency AC synchronous motor "ECOSYNCHRO", which is as compact and light as epoch-making and utilizes an original mechanism quite different from conventional induction motor.
The new motor starts up as a DC brushless motor and then directly connect motor coil with AC source to transfer to synchronous operation after the rotation becomes synchronous. Starting circuit is a hybrid system with compact size and low cost.
For example in the power of 50W, the efficiency of the new motor is as high as about 85%, while that of conventional induction motor is about 50%.
The new motor "ECOSYNCHRO" of high-efficiency as well as compact and light, is best suited to fan motor, storage pump motor, circulating pump motor and vacuum pump motor as well as general motors.
We would be very appreciated it if this new motor would widely be used around the world to become helpful for the preservation of global environment with excellent energy-saving effect.
We are ready for licensing the patents of this motor.
FEATURE OF "ECOSYNCHRO" MOTOR
compared with conventional 50W induction motor
Compact

Approximately

a half

in volume.

Lightweighted

Approximately

35%

lighter.

High-efficiency

Energy-saving

more than 40%.


The new motor with AC source attains energy-saving 40% or more less than DC brushless motor.

Parallel Running Applicable

A set of starting circuit drives parallel running of

multiple motors

regardless of motor power of the number of poles.

Flexible Starting Circuit

In a system with existing control circuit, partial integration of motor starting circuit

drastically reduces costs.

Extra Low Heating

The new motor with higher efficiency generates much less heat.